Won Hundred's Cubist-Inspired Designs
Scandinavian designs with a twist.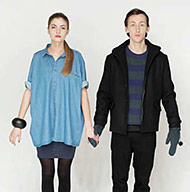 Most new designers agonize over what to name their labels, but Won Hundred's Danish designer, Nikolaj Nielsen, came up with his line's moniker after downing "about ten glasses of wine." Nielsen, a Diesel alum, called his lawyer up at two in the morning to copyright the phrase, and Won Hundred was born in 2003. Since then, the label's ten-person design team has been churning out simple Scandinavian clothing with "hidden qualities," like secret pockets and thoughtfully placed seams and gathers. "Everything we do, we do with force and a twist," Nielsen says.
Although the line is established in Europe, it has only been available in New York since 2008. This season, the label can be found at Dear Fieldbinder, Generra, Oak, and Suite Orchard. For fall, Nielsen was inspired by Cubism, both the movement's hard edges and the "softer collage art being made at that time." In clothing form, that translates to tough paneled leggings worn under drapey sweaters, and structured trousers belted over tissue-thin blouses. Next spring, Won Hundred fans can expect to see more minimalistic looks and longer silhouettes. Click ahead for a look at the fall and spring collections.
BEGIN SLIDESHOW