See Rihanna, Katy Perry, Kanye West, and More Divas From the MTV Europe Awards
Also Eva Longoria Parker in a ham costume. Like, literally, a ham.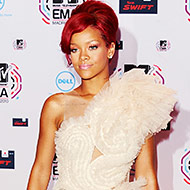 Few events make for a better fashion spectacle than those at which the music industry congregates to honor and attempt to one-up each other in weird costumes. So let's take a look at what divas wore to the MTV Europe Awards, which took place over the weekend. See Rihanna's frills, Kanye West's modest tee, Jared Leto's tight white zipper pants, Katy Perry's (you guessed it!) fireworks, and Eva Longoria Parker's ham costume in the slideshow.