Nyla Noor's Rio-Inspired Clutches Offer a Mood-Boosting Dose of Color
When the sister co-designers lost their jobs in finance last year, they launched their own fun-but-functional handbag line.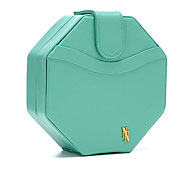 Sisters Romaana and Saifra Zia grew up surrounded by fashion — their father is a textile engineer, and their family owns a luxury leather goods showroom and boutique in midtown Manhattan. Still, the ambitious siblings — four and a half years apart — went a different route in school, landing respective finance positions at Merrill Lynch and UBS. When both lost their jobs six months apart in the midst of the recession last year, they took a step back from banking. "We were both working really long hours at really stressful jobs. When the layoffs hit, it was an opportunity to reassess," says Romaana. "I call it a work-life recalibration."
The pair launched their own handbag label in January of 2010, Nyla Noor. "We wanted to create something for the woman wearing many hats; bags that are wearable and functional but still beautiful," says Saifra. Each design incorporates a signature wave silhouette, a symbol for finding balance amid the highs and lows of work and life. The bags incorporate vegetable-tanned leathers and organic lining, as well as convenient details like outer flip and zip pockets. Though the fall collection focused on darker shades of black, gray, and red, the Rio-inspired spring line takes its punchy palette from carnival, including an assortment of tropical-hued box clutches. The bags are stocked at Searle and Henri Bendel. Click ahead to see more of the fall and spring collections.

BEGIN SLIDESHOW