Furniture Designers Silva/Bradshaw Translate Their Modernist Design Aesthetic Into Jewelry
Better known for multi-thousand-dollar tables, the co-designers introduce a refreshingly accessible line of rings and pendants.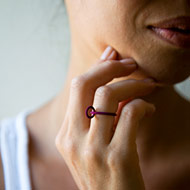 Matthew Bradshaw and Sergio Silva first met five years ago during their freshman year at Pratt, where they discovered a shared design philosophy. Both are furniture designers by trade, creating sculptural high-end tables, benches, and shelves. But while their modernist pieces have earned acclaim in the design world, both were looking to reach a larger audience. "As you can imagine, the market for $16,000 tables is quite limited," deadpans Bradshaw. "We wanted a way to get our design ideas out there on a more manageable physical and price scale." The pair decided to collaborate on a line of architecturally inspired jewelry, which explores various takes on the circle. "We started with clean geometric lines, then abstracted them by twisting or intersecting different shapes," says Bradshaw. Though the silhouettes are simple at first glance, they take on new forms when viewed from different angles; the Cirkel ring, for example, appears as a circle, hemisphere, or small heart.
Their first collection consists of nine rings and pendants, each produced in 3-D–printed nylon, blackened brass, sterling silver, gold-plated brass, and fourteen-karat gold. The range of materials allows the designs to be accessible and affordable — a change of pace, for a pair better known for tempered-glass tables. "The bright-colored nylon is like the candy aisle of the grocery store, and the more precious metals cater to those with more refined tastes," explains Bradshaw, though many clients layer on both for textural contrast. The debut line is available at Future Perfect and arrives at Project No. 8 this week. Click ahead to see more designs.

BEGIN SLIDESHOW