Slideshow: The Week in Street Style
The best street-style photographs of the week, from Berkeley to Brooklyn.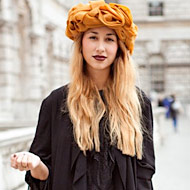 Why wear a hat when you can wear an elaborate orange turban? For most people, that's easier said than done, but the Streethearts caught Steffie pulling it off on the streets of London with aplomb. Other highlights of the week: Veera's fantastic funnel-neck coat, shot in Helsinki by Hel Looks, and the ever-polished-yet-perfectly-disheveled George Cortina, captured in Paris by Stockholm Streetstyle. The title of best fur coat goes to Taghrid Chaaban's new pet bunny, Newton, who vamped adorably for his owner's camera in a red bow. Check them out in this week's street-style slideshow.