Slideshow: This Week in Street Style
The best style snaps from around the world, from Atlanta to Reykjavik.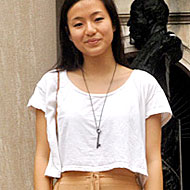 Even though Halloween was this past Sunday, by now everyone's tired of costumes. Thankfully, the street-style photographers stuck to fresh autumnal looks like Stella's classroom attire (shown), shot on Columbia's campus by Swagger New York, and Lena, who punched up her neutral palette with a bright red bandanna. While plenty of folks are still sporting short sleeves and light fall jackets, it actually got chilly in some parts of the world this week, so we got our first glimpse of snow-friendly apparel from Edda G. in Reykjavik. Click ahead to see more!