Gucci Threw a Day-Care Party for the City's Most Fabulous of Fabulous Children
The launch of the children's line could not go uncelebrated.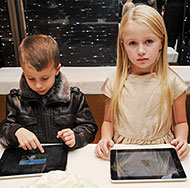 Gucci's kids' line just launched with an ad campaign starring sexy mom Jennifer Lopez, wielding a twin on each hip as though they were pies and she was posing for Maxim. This, the ad says, is some faaah-bulous children's wear. Gucci fêted the line — which includes freaking adorable $275 baby leather boat shoes and jackets in the four figures — yesterday after school in Gucci's Fifth Avenue store. This private party included adults and children, who could get their faces painted, color on custom Gucci coloring sheets, and play with iPads equipped with a new Gucci App called "Playground" that "allows users to dress up dolls in Gucci children's clothing and draw and color with a variety of Gucci themed templates including the Gucci by Riva boat and Gucci bicycle," a press release explains. Some kids go to day care, others ... go to Gucci. Check out the fun in the slideshow.