Slideshow: Farewell, Skinny. Hello, Cropped.
The pants pendulum has swung. Contenders to replace skinny? Cropped, for one.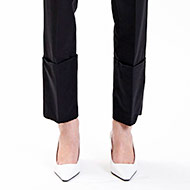 It was very clear from the pre-fall 2011 shows this month that the pants pendulum has swung away from skinny toward ... what? Wide tailored trousers, for sure, but designers also trotted out a lot of cropped, from mid-calf to ankle-grazing, paired with very tailored jackets or T-shirts to keep the line simple. See how it adds up in our trend-roundup slideshow.