Russian Vogue Will Supposedly Lead Putin to Out His Affair, Love Child
His mistress is on the cover.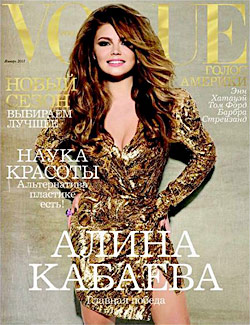 Viktoria Davydova's first cover of Russian Vogue since taking over from Aliona Dolestkaya features Vladimir Putin's alleged mistress Alina Kabayeva. Kabayeva, who reportedly had a child by Putin last year, is a 27-year-old Olympic rhythmic gymnast (as in, the people who wave the ribbons around). The controversial cover — yet another vehicle for the season's most overexposed Balmain dress — might "be just the first step toward their eventual public relationship," an anonymous expert told "Page Six." Putin is still married to flight attendant Lyudmila Shkrebneva, with whom he has two children. What's funny is that such a scandalous, last season's Balmain-wearing, ex-rhythmic gymnast would never appear on American Vogue. Davydova is certainly getting attention, though.
Putin's mistress is a cover girl [Page Six/NYP]