Adam Kimmel Looks to the Backwoods for His 'High-Style Survivalist' Style
Stumble Upon
Menswear designer Adam Kimmel toes the line between scruffy Brooklyn-cool and the dapper Upper East Side: a woodsy T-shirt paired with a cashmere sweater; eye-catching splashes of color; a beautifully tailored suit with a hint of hipster plaid. Since launching his label in 2002, the designer has earned a following for his separates and luxurious fabrics — he was nominated for the Swiss Textile Award last year. This May, he's collaborating with classic workwear brand Carhartt to launch a co-branded line of outerwear, shirts, pants, denim, and accessories.
The designer presented his fall 2011 collection last week, garnering glowing reviews. "Kimmel has a knack for artfully elevating iconic styles," wrote Women's Wear Daily; "…his clothes have responded by becoming more sophisticated than ever before," concluded Style.com. (Only Cathy Horyn exhibited her famous snark — "hipsters in Grandpa sweaters and other country clothes should stay in Brooklyn and not venture into the wild.") Though he shows in Paris, Kimmel's sensibility is unabashedly American. Inspired by artist Dan Attoe and the Pacific Northwest, the fall collection offers multifunctional pieces like reversible motorcycle jackets, hunting coats that unzip into trench coats, and reversible linen blazers that are waterproof on one side. "It's not your typical backpacker, granola-hippie look," he says. "It's a much more idiosyncratic backwoods motorcycle punk that could be similar to something out of Twin Peaks." The collection also delivers luxe cashmere sweaters, brush-cotton suits, and dress boots, for a look Kimmel calls "high-style survivalist." We caught up with the designer to discuss his fall collection, Carhartt collaboration, and unusual wardrobe indulgence.
How is your fall collection a departure from spring 2011?
I'm still using extraordinarily soft, fine fabrics, but this collection is much more technical, especially in the three-in-one and reversible pieces. And winter collections always give more room for layering and quilting, which I love.
How did you get involved with Carhartt?
Jay Bell at Barneys was the brainchild of the introduction, but I've been wearing Carhartt since I was 10 years old and have been a huge fan ever since. I was pretty knowledgeable about the history of the company.
What can we expect from the collaboration?
An updated fit with fresh silhouettes and softer fabrics. I kept Carhartt's timeless rugged look and made it as comfortable as possible.
Are you looking to expand beyond the typical Carhartt clientele?
It's a little more expensive than Carhartt's mainline collection and will be sold at a higher-end store, so I imagine that it will bring some new clientele for both of us. But I'm aiming to make the most durable and comfortable outerwear I can at an affordable price point.
What kind of guy do you envision wearing your clothes?
I like to design clothes that are functional, natural, and one-of-a-kind. I try to attract a client whose needs are in line with that.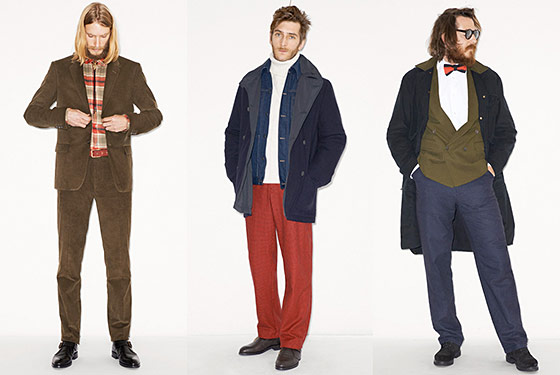 Who are your favorite designers?
I like Ralph Lauren because he owns American style. I also admire Helmut Lang for his simple, minimalist aesthetic in the late nineties — he managed to be simultaneously bold and so contained. I bet Mr. Lang would make some amazing collections if he were back in the game today.
Where do you like to shop in New York?
I indulge in nice socks, which I'll get at either Barneys or Loehmann's.
How would you describe your personal style?
I like to imagine my style as an Upper East Side hellbilly cowboy, but most days it's totally relaxed and understated — jeans with a T-shirt or a casual button-down and work boots. I wear soft, luxe fabrics that don't look flashy.
What trends are you appreciating at the moment?
I like trends that have a bit of personality to them and that still stick to timeless values. I'm not really interested in trends for trends' sake.
Any trends you're ready to see retired?
The Justin Bieber comb-forward.
What's one item you're saving to buy?
I'm always saving to buy cameras from B&H for my wife [actress Leelee Sobieski] and me.
What's one item every man should have in his closet?
A perfectly fitting suit.