Husam El Odeh Turns Everyday Objects Into High-End Jewelry
Stumble Upon
German jewelry designer Husam El Odeh originally studied painting at Hochschule der Kuenste in Berlin, with plans to become an artist. Art students were required to take a workshop class, and a friend signed him up for a course in fine metal. "I think I only went three times," he recalls, "but I remember thinking, This is something I could do. Later, when I became fed up with the self-important fine-art world, I came back to it." He created his first collection in 2005, while still at university. "My teachers weren't that impressed," he says. "They came around later, but at the time they didn't like the idea at all." His inventive, slightly off-kilter jewelry incorporates shells, crystal, precious stones, metals, pearls, wood, and plastics. He's often tapped for collaborations — he has designed collections or one-off pieces for Marios Schwab, Acne, and Miharayasuhiro, among others.
The London-based designer won the Emerging Talent Award for accessories at the British Fashion Awards last month, earning him a nod from the Vogue EIC herself. "I got a personal e-mail from Anna Wintour," he says. "I was like, 'Wow — that's not the usual spam e-mail in your in-box.'" Next month, his accessories collection with Acne will arrive at Opening Ceremony, and he's working on another collaboration with Miharayasuhiro. We caught up with El Odeh to discuss his BFA win, offbeat design process, and good-luck charms.
What prompted you to shift your focus from art to jewelry?
I like the freedom to do what you want with it — it's not like clothing, which has some real reason you need it. I like the possibilities, the room for new ideas.
What's the inspiration behind your designs?
It's weirdly minimalist and quite playful. I like things that tap into everyday encounters and reference utility. That's where my spoon and key designs come from — the keys are melted down, carved out, and filled with crystal. I like people to have a relationship to what I do, and they already have a relationship with those objects. I just twist it a little bit.
What's the design process?
I never actually set out looking for inspiration. I find a lot of things on the street; I collect odd things. I don't horde them, but they come and go through the studio. The initial process is just thinking with my hands — I just like playing with things.
Who are your favorite designers?
I really like Margiela. I think it's very intelligent and so elegant. I love Jil Sander — they're just amazingly high-quality clothes. And Karl Lagerfeld's a genius.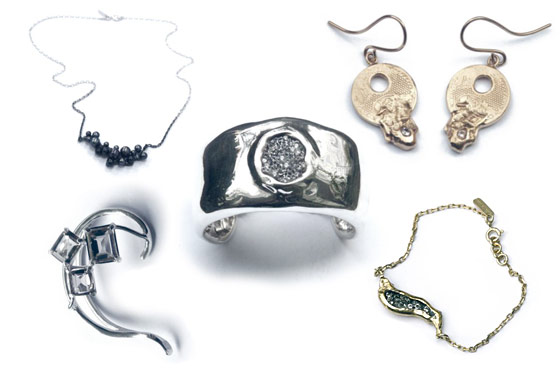 How would you describe your personal style?
Probably shabby chic, mostly because I need to come to the studio every day, so I can't wear anything that can't get dirty. My favorite shirts are different shades of gray with paint splashes on them from work — but I like them like that. Getting dirty is a necessity of my job.
What trends are you appreciating right now?
I quite like the romantic military trend in menswear, though I'm starting to be bored with military. The romantic element isn't through yet.
What's one item you're saving up to buy?
Maybe an Ann Demeulemeester jumper or some Prada shoes.
What's something you never leave the house without?
It's this charm my mom gave me — it used to be this really awful Middle Eastern thing with ornaments hanging on it. I think maybe she gave it to me because she didn't want to wear it, either. I melted it down, so it's deconstructed, but the essence is still there. I also always wear a single pearl. It can become such a comfort; you start to think of them as good luck.