Meet the New Girl: Pauline Van der Cruysse Is No Longer Weirded Out by the East Village
Stumble Upon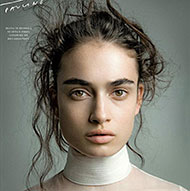 Nineteen-year-old Pauline Van der Cruysse was discovered by a fellow Belgian, fashion editor Thom Van Dorpe, in 2008. Dorpe first spotted the brunette in a bookstore in Van der Cruysse's hometown. Though she signed with Elite Paris that year, Van der Cruysse waited until last year to find representation in New York, ultimately landing a contract with Marilyn Agency. She went on a few key go-sees a week later, scoring a spread for Chinese Vogue, shot by Daniel Jackson. Days later, she shot with Thomas Schenk for German Vogue and Jason Kibbler for Russian Vogue, all without a single runway booking under her belt. When she finally did debut on the spring 2011 runways, the statuesque model walked for Marc Jacobs in New York, Prada in Milan, and Givenchy in Paris. With a very directional catwalk unveiling, a strong editorial presence, and a cool, slick street style, Van der Cruysse has all the makings of becoming a memorable top model. Click ahead to read a Q&A with Van der Cruysse, and then visit her new model profile to see loads of on- and off-the-runway pics.
How did you get discovered?
I was scouted by Tom Van Dorpe while I was shopping in a bookstore in Belgium.
What has been your most memorable editorial shoot to date?
That was definitely a shoot for Chinese Vogue, shot by Daniel Jackson. It was my first shoot in New York and also my first shoot for Vogue. It was a great experience!
How would you describe your style?
Belgian!
What's the last film you watched?
Never Let Me Go
Where do you see yourself in five years?
Happy and satisfied in life as a whole, and with my achievements in the fashion industry!
Share with us your beauty secrets.
I drink a lot of water and I always use sun protection.
Tell us something random and totally weird.
I live in the East Village. The weirdest thing is that the weird people in my neighborhood are not weird to me anymore! Weird?
Favorite thing about being a model?
Every day is different.
Worst thing about being a model?
The insecurity, because you never know if you will get the job.
Explore other rising stars (plus all the big names) in our extensive Model Manual, featuring runway pics, glamorous editorials, model bios, career timelines, and more.