Slideshow: Next Fall, Men's Jackets Are Short and Occasionally Waiter-ish
They evoke the currently ubiquitous eighties as well as the crisp efficiency of a European maitre d'.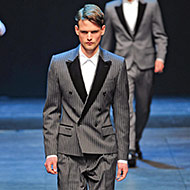 Amid the sleek tunics, boxy shoulders, and double-breasted, low-buttoned styles on the men's runways for fall 2011 were a passel of hip-grazing, nipped-waist jackets. At Umit Benan and Hermès, the shape looked casual and sporty, while Raf Simons and Vivienne Westwood were more eighties-oriented. With their dark, tiny-lapeled styling, the jackets at Yves Saint Laurent and Marni had the clipped authority of a pencil-tapping maitre d' at a five-star restaurant.