Slideshow: Next Fall's Accent Color for Men Is Orange
It's like vitamin C in your closet!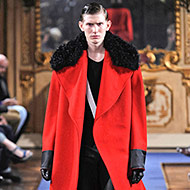 The menswear shows are generally a sea of black, navy and gray. (With some exceptions; Walter van Beirendonck, bless him, clearly can't wait to get through the obligatory suits and onto the ponchos). There was surprising unity in next fall's accent color, though: orange! It perks up the unrelenting darkness that is most men's closets, and throws off a nice retina-warming coziness--which, if next winter is anything like this one, will be very welcome. Sometimes it's a sherbet-y soft, sometimes it tilts toward scarlet, but most often it's straight-on safety vest. Click through to see the representative spectrum.