The Seven Topics of London Fashion Week
Weddings, Tom Ford, weddings, the weather. Like that.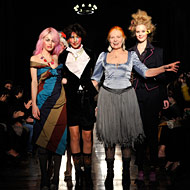 It's a short one, but still packed with news. Tom Ford did it again, staging a tiny little show for an elite few "somewhere in London," the Guardian reported yesterday. Kate Middleton was the invisible center of much drama as she began making public her wedding dream team, but also got a politely chilly style slap from Dame Vivienne Westwood. And Burberry, recently declared by Fast Company to be one of the world's most innovative brands, brought traffic — well, at least a large number of passersby — to a standstill during its live show-cast in Piccadilly Circus, proving that fashion doesn't have to be elite to get people excited.