Reports: Kate Middleton's Wedding Designers Have Rooms in the Palace
On the day of the wedding, there may be a shoe-off.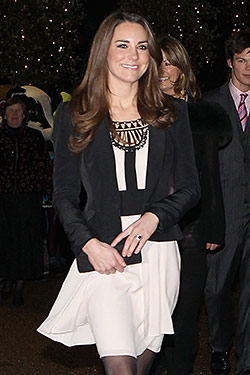 Here's one more reason Bruce Oldfield might not be designing Kate Middleton's wedding dress: He does not seem to be spending most of his time in Buckingham Palace, where, rumor has it, Kate's other potential designers are ensconced. "She has people in there just doing shoes. She's got people in there doing the dresses and stuff like that. That's the rumor on the street," Dora Fung, a British editor of Chinese Vogue told us at the Altuzarra show last night. One shoe designer reportedly in the running is Adele Clarke, who "has been given a room in the palace," Fung hears, along with another shoe designer. "I think they've been given places, like 'make THE shoe.' It just depends on the day [when it comes to] what she prefers," Fung said. Well, that can't be a bad thing, even though it sounds somewhat imprisoning. We wouldn't mind if our office was just moved to Buckingham Palace one day. And if the rumors are false, it's just as amusing to know that people close to The Dress Situation are obsessive and thorough enough for these kinds of stories to come about.