Blogger Fashion Toast Gets Recognized by Fans All Over the World
They want to know how they can become the next her.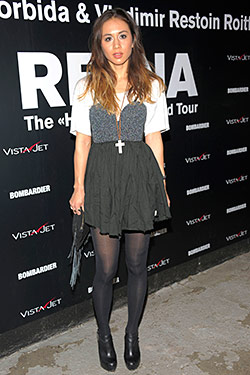 A blog is enough to make someone a celebrity these days — something that surprises even Rumi "Fashion Toast" Neely, who says she has started getting recognized all over the world. "It used to be that it was kind of in like more fashion-focused places like Paris, New York, whatever, but now it'll be in Irvine, in San Diego, in Marin County," the California resident and Forever 21 face told us after the Preen show the other day. Neely finds the experience "awkward," because, well, who knew you could gain that kind of recognition from a personal style blog? "They have very specific questions right off the bat," she says of her fans. "Like, how did I get so many followers? They start interviewing me on the spot. But everybody's really nice — it's just that I'm not always ready for it."
Neely doesn't quite know how to explain how someone can become the next her. "I get e-mails like every five minutes about it," she says. Her advice is not to try to be like her: "Just be yourself. I think everyone thinks creating your blog is replicating a template, and it's not really about that. I think that the more unique your voice is and the more yourself you are online, then the more likely it is that you'll attract readers because then you'll have something new to offer." Neely said that the bulk of the work — and it is a lot of work — is not in styling herself. She doesn't borrow clothing from labels; she shops. "I get sent a good amount of stuff, but I don't feel obligated to wear it just because it got sent to me," she said. "I'm like any normal person. I think that's part of the appeal."