ANTM Recap: André Leon Talley Declares the Next Level of 'Swandom'
Fitting for a makeover episode, no?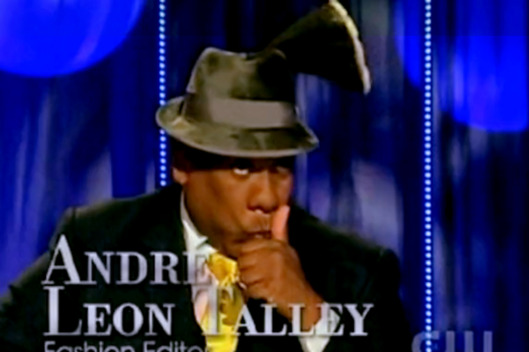 After a disappointingly unemotional shoot with bees, it's makeover week on Top Model so the tears can finally flow! Tyra threatens to give the contestants haircuts like "Short Dutch Boy" or "Big, Curly, Gurly" (everyone secretly hopes not to get "Manly Short Brown Spikes"). The contestants don't find out who gets each look until they arrive at Privé Salon, where Alexandria, Monique, and Molly promptly have meltdowns over their weaves. Not haircuts, but weaves. Although Molly was right about them not being a good idea: Tyra's vision of "What If Diana Ross Were Blonde" was so difficult to achieve that even salon owner Laurent couldn't hide the spots where she had sewn the fake hair onto Molly's head.
Androgynous Sara unfortunately had to submit herself quietly to "Manly Short Brown Spikes," which caused her to later call herself "Dirty Smeagol in the corner." Post-makeover, the girls traipse out to the woods for their next shoot. Guest judge and bigwig stylist Lori Goldstein dresses them in what's called "couture," but actually includes some ready-to-wear, such as the Carolina Herrera gown Hannah fawns over. Goldstein then places another girl in John Galliano while saying, "A little Galliano never hurt anybody." Of course this was filmed long before Galliano was fired from Dior for allegedly being an anti-Semite. And how hurtful a little Galliano has been these past couple of weeks.