ANTM Recap: André Leon Talley 'Felt Nothing,' Is Not on a Caffeine High
This week's Fierce Roast coffee commercials were not fierce.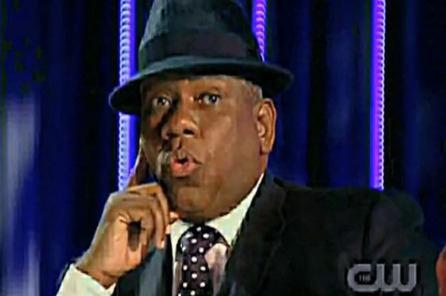 Top Model is like a fine wine: It only gets better — and by better we mean more mean-spirited — with age. Not content with making this season's hopefuls walk on water in plastic bubbles in the premier episode, last night's ANTM offered another ridiculous challenge: catwalking in a Geoffrey Mac show while on fire. Well, only their hands were actually aflame, thanks to special gloves they doused in lighter fluid or whatever it is they used. Yet not even a sculpted eyebrow was singed. Post-show, Miss Jay decided that the three runway performers he liked the least would have to walk home. They needed the practice, obviously.
Plus-size Kasia (the ex-Wilhelmina girl) won this week, while feminist Sara, this season's token androgynous beauty, was sent packing. See some of ALT's ingenious assessments and more from last night's episode in the video.