A Tribute to Elizabeth Taylor: Fashion Icon
Forty-five iconic looks from Elizabeth Taylor's life.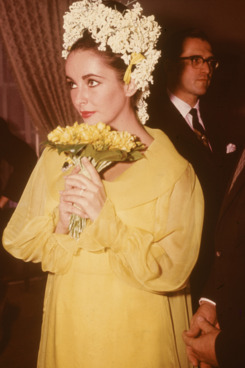 When it came to style, Elizabeth Taylor was fearless. The diamonds, the hair, the cleavage: She rocked it out everywhere she went. In her younger days, she favored plunging necklines with straps poised to slip off her shoulders, her hair like a dark cloud around her thickly made-up eyes (word is she was born with a mutation that gave her double rows of eyelashes). As she grew older, her style got even bolder: The seventies brought tight miniskirts and more elaborate headpieces, and the eighties ushered in feather boas, bright blue eyeshadow, and poufy everything. Toward the end of her life, Taylor attended events for her many philanthropic pursuits in a wheelchair, swathed in silk caftans and draped with fur and velvet wraps. In 1997, she won a Lifetime of Glamour Award from the CFDA. Her extraordinary style is one of the many things that will be missed.