First Look: Kathy Lo's Whimsical New Photo Book, Kiss (X)
Featuring Ashley Smith, alongside two hipster boys.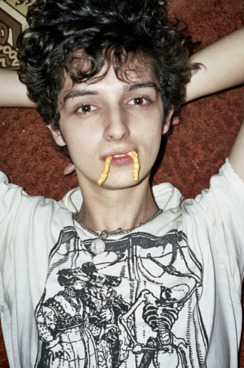 Do you ever feel nostalgic for your rebellious adolescence? Those were sweet years, filled with salicylic acid, cheap beer, and unabashed sexual experimentation (remember Makeoutclub.com, anyone?). If you're experiencing a bit of the Peter Pan syndrome, you'll most likely feel an affinity for the cheerful, whimsical images in Kathy Lo's latest book, Kiss (X). The 24-year-old fashion photographer was inspired to create a modern depiction of German writer Johann Wolfgang von Goethe's tragic play Faust. "The main character, Aris, was bored with his life and decided to call on the devil, Erik [the ginger-haired boy]," she explains. "In the end, he sold his soul to the devil in order to get the girl of his dreams, Ashley Smith." Published by Shizen Books, the limited-edition collection of 150 printed copies arrives at Opening Ceremony and Dashwood Books this weekend. You can also purchase a copy online here. Click ahead to see a dozen of our favorite images.