If Only Vogue Could Award the Olsens Honorary MBAs
They probably would.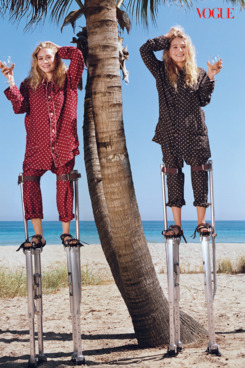 No one likes things quite like Vogue likes things. Among their many praises of the Olsen twins and their line, the Row, in the April issue: that you would be "stupid ... to think of them as dinky little celebrity girls with an accidental business in clothes"; that the Row's spring 2011 line was "impressively wearable," made all the more impressive having been "wrested from disaster" when samples were late to arrive and they had to move the show to Paris at the last minute; that the line looks "suspiciously like a contender for the higher ranks of American luxury"; that "if Malcolm Gladwell is correct about the way children who put in 10,000 hours of specialist study become outliers in later life," Ashley's childhood work experience "virtually qualified her for an MBA before the age of sixteen"; and that "it would not be surprising if the tiny Ashley and Mary-Kate Olsen turned out to be two of the largest players in mid-twenty-first-century American fashion."