Isaac Mizrahi Hopes John Galliano Doesn't Work Again
He never was a huge fan of Galliano's work, anyway.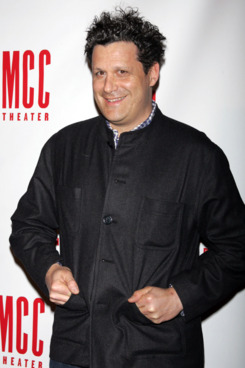 Designer and television personality Isaac Mizrahi is in what seems to be the minority of top fashion people who find the incidents behind John Galliano's dismissal from Christian Dior unforgivable. "It can't be tolerated," he told us at the MCC Theater's Annual Musical Spectacular Gala at the Hammerstein Ballroom last night. "I guess I'm the wrong one to talk to, because I never really liked sort of what he did so much. I liked better what McQueen did. I liked better what Vivienne Westwood did," he confessed. "So now I don't like it, and he's a Jew hater? I was like, buh-bye." Mizrahi added that he usually didn't spend much time looking at Galliano's work "except when it was in the paper or something I couldn't miss on the back of an issue," and acknowledged that the designer made an appearance in his documentary Unzipped fifteen years ago. In the scene, they are at a dinner together. Mizrahi hasn't seen him since. "I don't really think about him," he continued. "But they do, they think about him a lot, the fashion cognoscenti — they think of him a lot. And so it's a dangerous situation."
Mizrahi explained that he prefers the work of McQueen and Westwood to Galliano because they have a "lighter touch." Galliano's work, to him, is like "a pretty picture that had absolutely no relation to the world I live in." He adds, "I guess that's what couture has become. Pretty pictures in that way, you know what I mean? Where sort of, I guess, McQueen kind of applied it this way. He took these pretty pictures and mixed them with loads of funny, ironic images and kind of brought it into a woman I actually relate to in life. Galliano was more of a fetishist to me. He was more of a fetishist than a democrat. And I refer to him in the past tense, because I don't think he'll work again. I hope not. I hope he doesn't work again."