First Look: J.Crew's Neon Fall Collection
Check out next season's buckled pumps, wide-leg trousers, knee-length skirts, and melon-hued bags.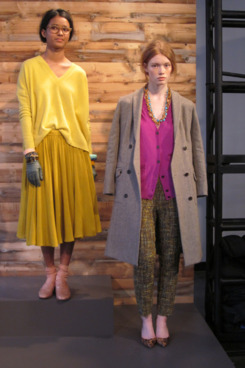 Though we've spent the last month sighing over the lagging spring weather, J.Crew's fall preview last night at Industria Studios gave us a tempting glimpse of what we'll be lusting over when the chill returns next season. Rather than subdued autumnal shades, this collection is rife with bold doses of color: a chartreuse skirt, melon-colored handbags, lilac trousers, and a beaded orange top. Wide-leg trousers will be back in full force, paired with untucked button-downs and short sweaters. But we're particularly enamored with the shoes for fall, paired with ankle socks or peeking out from beneath floor-grazing hems, from leopard-print loafers to multi-buckle satin pumps. You'll also find updated cold-weather staples, including tweed blazers, camel trenches and capes, and wool peacoats, while the men's selection brings striped crewneck sweaters, slim suits, and cable knits. The fall 2011 collection will be in stores from August through October. Click ahead for a closer look at J.Crew's fall offerings.
BEGIN SLIDESHOW