Lady Gaga's Fourteen-Inch-High Cowboy Boots Took 500 Hours to Make
That's about 21 days.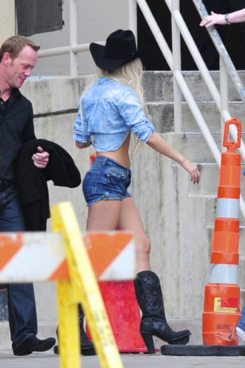 Last week, in proving she's a true woman of the people — all people — Gaga attempted to integrate as seamlessly as is possible for someone like her into Dallas last week by wearing cowboy boots. The fourteen-inch heels were made by Tony Lama, the product of over 500 hours — or about 21 days — of handiwork. The boots have flying unicorns and rainbows and say "Born This Way." Funny they spent 500 hours making shoes for her. Because of all the needs in this world at any given time, Lady Gaga is the last person who should want for shoes. What she really needs is a real unicorn to ride around on. Why has no one made her that yet?
Lady Gaga Kicks Back in Custom Cowboy Boots [StyleWatch/People]