Meet the New Girl: Emily Senko Only Eats When She's Hungry
Stumble Upon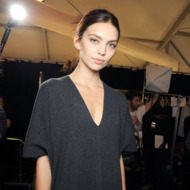 Chicago native Emily Senko is living proof that good management is the key to a successful modeling career. Signed with Ford Models back in 2008, the 23-year-old (God bless her for being older than 14) was originally pigeonholed into the commercial side of the industry. That was until famed model agent Paul Rowland came aboard Ford's image division in spring 2010, eventually overseeing Senko's career. It didn't take long for Rowland to prove Senko's appeal to high-fashion clients, and soon enough, she was on the runways for Chanel, Alexander Wang, Louis Vuitton, and Lanvin. She currently shares the spring BCBG Max Azria campaign with Fabiana Mayer. A job well done, to both Paul and Emily.
Tell us a little about your childhood.
I grew up outside of Chicago in a very all-American family. You know: a mom, a dad, a brother, a cat, and a dog. It was very normal, actually.
How did you get discovered?
I took myself to an open call at Ford Chicago. I always wanted to model, but my parents insisted I finish school first. I'm glad I waited though.
Share with us your most memorable experience from your breakthrough spring 2011 season.
As soon as Milan Fashion Week ends, the earliest flights to Paris are booked almost entirely with models; 50 or more will be on the same plane. It's a funny sight, but it's also a good time to catch up with friends on your downtime.

Do you have a preference doing print work versus runway?
I love the rush of stepping onto a catwalk and the instantaneous energy that it brings, but I also love working with a team on an amazing shoot; both are very satisfying to me.

What goes through your head when you get dressed in the morning?
It's the collective totality of who I'll be seeing, what I'll be doing, my mood, and the weather. That said I generally try not to think too much about it. It's always the first thing I grab that ends up working best.

If you could meet anyone dead or alive, who would you meet?
Michael Jackson ... 'nuff said.

You've been the face of Benetton's swimwear. How do you maintain your physique?
I make sure to do at least an hour of intense cardio three to four times per week. Beyond that, I only eat when I'm hungry, rarely snack, and only drink water. No sugary sodas or juices!

If you weren't modeling, what would you be doing?
This question often crosses my mind. I love my job and can't picture myself doing anything else right now. If I wasn't a model, though, I would not eat so I could be a model. [Laughs.]

Favorite thing about being a model?
No two days are ever the same.

Worst thing about being a model?
Having little control over your schedule. It's hard to plan knowing you may have to cancel last minute — letting people down is something I hate to do.
Explore other rising stars (plus all the big names) in our extensive Model Manual, featuring runway pics, glamorous editorials, model bios, career timelines, and more.