Slideshow: The 29 Most Stylish People at Paris Fashion Week, Part 1
Street-style snaps fresh from Paris.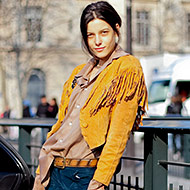 Our photographer Craig Arend has been roaming the streets and parks of Paris over the past five days, snapping photos of editors, models, bloggers, and all the various fashion folk that have arrived for Fashion Week. Highlights include W's Carla Martinez grinning in her Prada top and Kanye West posing in a leopard-print jacket. But of course, he hasn't overlooked stylish locals like fashion students Anne Catherine and Amelie.