Rick Genest Is Not Tattooed Quite Everywhere, But Probably Will Be Someday
Formichetti also paid thousands of dollars that Rick Genest owed in fines.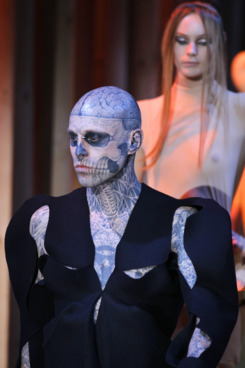 As the story goes, when Nicola Formichetti discovered his muse Rick Genest (a.k.a. Rico) on Facebook a few months ago, he immediately invited him to the Mugler menswear show in Paris. There was a snag, though, when it turned out that Rico owed thousands of dollars in fines for sleeping on the street and couldn't get a passport. "It was a lot ... like ten or twenty [thousand dollars]," Formichetti told Hint. "I paid it myself. I really believe in him. He was only in Paris for two days."
The Incredible But True Story of How Nicola Formichetti Got Rick Genest to Model in Mugler [Hint]