The Woman Who Made the Dress That Gave Prince William the Hots for Kate Middleton Has to Watch Their Wedding on TELEVISION
Stumble Upon
Rarely do dresses that are so famous they're practically celebrities in their own right come along. Monica Lewinsky had one. Michelle Obama had at least three. Kate Middleton will have one when she weds on April 29, but has made another a pretty big deal — and it's slutty, which (like most celebrities) makes it an even bigger deal. It's the see-through scrap of a thing she wore in a charity fashion show when she was at St. Andrews — the dress that gave the prince a dance in his pants and started it all. Tomorrow it goes up for auction "alongside hundreds of grander garments," Robin Givhan writes in the Daily Beast, including rare vintage Chanel and Yves Saint Laurent pieces. But this see-through dress thing — which was originally supposed to be a skirt — is the most hyped in the auction, and is expected to fetch $11,000 to $14,000.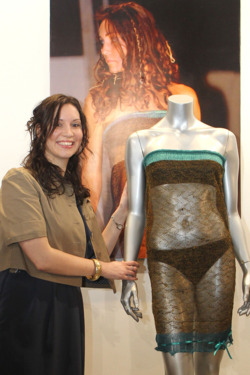 Charlotte Todd made the garment (if you can call it that). She works now in the gift shop at a Bristol aquarium.

"My interest was in textiles," she told me. "But we were doing a fashion show, and so I needed to make it into a garment."
"I had an idea the relationship would go the distance," Todd, 31, told me. She had tucked the fashion project away with the rest of her college mementos, but at a certain point keeping the dress ceased to be an option. "There was so much interest from overseas—it was quite a lot of responsibility on my shoulders."
She plans to watch the wedding on television, which seems kind of crap, but raises an important philosophical question about weddings: Do you have to invite the person who set you up? What if it turns out, by the time you wed, that one of you can't stand them?