Fall Trend: Fabrics Will Be Hard and Shiny
Part disco-era patent leather, part bumper car.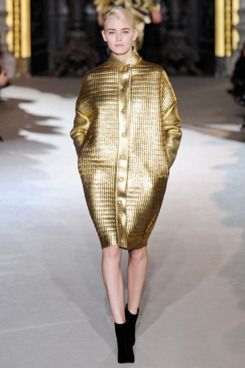 While jostling for a seat on the train or a spot at the bar, do you ever wish your clothes could be more like car bumpers? By which we mean: stiff, gleaming, resilient enough to fend off whoever's trying to elbow his way toward that last carrot muffin at the coffee shop, with enough design drama to indicate you are extremely serious about your intention. This fall, you're in luck. Many of the silhouettes that designers from Yves St Laurent to Marc Jacobs just showed in New York, London, Paris and Milan were cut from thick, shiny fabrics (often with some rubber involved) that conveyed both inherent power and disco-era nostalgia.