Fall Trend: Shoulders Are Big Again
They will be brushing up against everything and everyone that comes near them.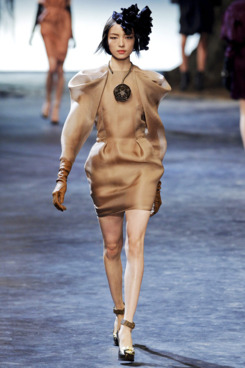 Back in the '80s, it was called the power shoulder, and it roamed freely through the pop culture landscape, co-starring in TV shows (Dynasty, Dallas), and in pop music (David Byrne's big suit from the Stop Making Sense tour, Grace Jones on the cover of Nughtclubbing) and generally being emphatic during the Reagan years. Then Jil Sander and Prada and all those no-shoulder-pad minimalists sent it into exile, to wait out the cycle. This fall, the shoulder silhouette is officially pushy again, whether because masterful tailors like Karl Lagerfeld at Chanel and Francisco Costa at Calvin Klein have dropped the seam and pulled the line away from the body, or because, like Alber Elbaz at Lanvin and Alexandre Herchcovitch, they saw it as a place to play.