ANTM Recap: Guess What Tyra Stuffs Her Boots With
No no, it's not food. It's leg warmers, because otherwise she doesn't have calf muscles.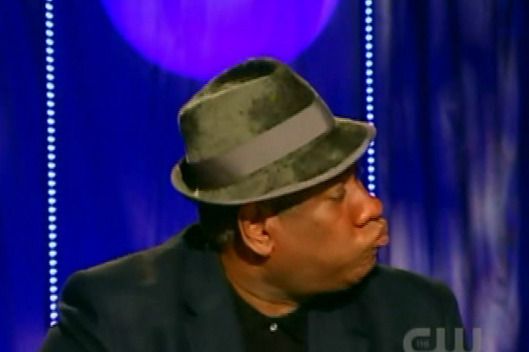 After weeks of editing Alexandria as public enemy No. 1, this week's ANTM showcased her nicer, happy side. She's on the road to redemption, if not necessarily the win. She started out the episode resolving all her drama with the girls — bar Molly — and continued to bring her "No.1" game throughout. She even had the phrase on a T-shirt, proof indeed.
Panel was particularly high-stakes, with only those surviving the elimination flying off to this cycle's international destination: Morocco. In backstage footage, we saw ALT — who was introduced this week as the most influential person in the fashion industry — calling Tyra out on some dreckitude of her own, an outfit he said looked better suited for a horse-riding lesson. (By the time the girls arrived, she'd changed, into an outfit that included knee-high boots she admitted she stuffs with leg warmers to give her shapely calf muscles. No, really.) Alexandria continued her winning streak with a top call-out, and poor Jaclyn, who'd suffered from what ALT called a "gauche" arm in her photo, got the boot. The show will miss her sweet and clueless Southern charm for sure. Narrowly surviving her debut in the bottom two, Molly cried tears of relief, which was most likely a necessary show of emotion because the panel is pretty convinced she's a frosty little madam. (But hey, really, why is that a bad thing!?) Watch ALT's best moments and more in our video roundup.