First Look: Juergen Teller's New Book Get a Life, Starring Vivienne Westwood and Pamela Anderson
See never-before-seen images from the designer's epic spring 2010 campaign shoot.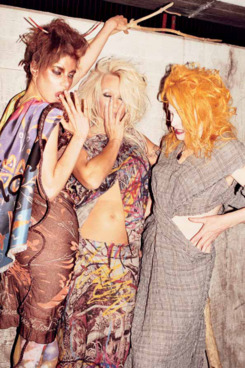 Celebrating Juergen Teller's long-standing relationship with Vivienne Westwood, the new book Get a Life includes glorious photos from Teller's spring 2010 campaign for Westwood, many of them unseen. This book comes after the photographer's prior two photo books with the designer, Election Day (2009) and Vivienne Westwood (2008). Get a Life includes shots of Argentinean model Tati Cotliar playing crazy, alongside Westwood herself and a deliberately rough-looking Pamela Anderson. The un-retouched images capture Teller's inimitable raw aesthetic; in New York's fall 2008 fashion issue,Teller told us that fashion photography is "so retouched, so airbrushed, without any human response at all, and, well, you don't really want to fuck a doll." See more from the Steidl-published Get a Life in the slideshow.