Fox News Contributor Disapproves of Jenna Lyons Painting Her Son's Toenails Pink
According to talking head Erin Brown, this is "blatant propaganda celebrating transgendered children."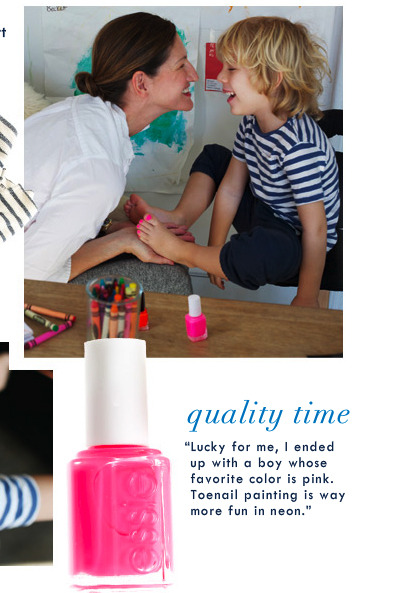 "Saturday With Jenna," a feature on the J.Crew website that shows how creative director Jenna Lyons wears her brand's clothes, recently depicted Lyons painting her toddler-aged son Beckett's toenails with bright pink Essie polish (the shade is made specially for J.Crew). The caption reads, "Lucky for me, I ended up with a boy whose favorite color is pink. Toenail painting is way more fun in neon."
This got Fox News riled up about Lyons's parenting abilities (pink nail polish is wreaking havoc on gender norms among kindergartners these days!), so they invited some talking heads to discuss. Erin Brown, of the Media Research Center, called it "blatant propaganda celebrating transgendered children." Dr. Keith Ablow, psychiatrist and author of the ironically-titled Living the Truth, wrote an editorial about the matter for Fox News' website.
J. Crew Plants the Seeds for Gender Identity [Fox News]
Fox News Goes After J.Crew's Jenna Lyons For Painting Son's Toenails Pink [HuffPo]