Helen Mirren Wore Leopard Print With a Black Leather Biker Jacket
Yowza.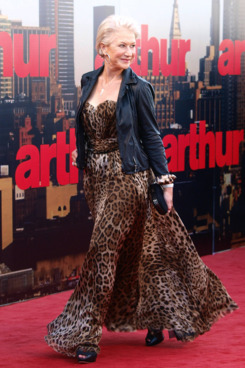 Helen Mirren attended the European premiere of Arthur this evening in a low-cut leopard-print dress by Dolce & Gabbana. She kept warm with a leather biker jacket (lined with more leopard-print fabric, for good measure) and accessorized with black leather peep-toe heels and a black clutch. For extra punk effect, her silver necklace had a safety pin pendant.
Is there such a thing as too edgy for Helen?