Henrik Vibskov Puts His Kneesocks on One Leg at a Time
Stumble Upon
While his contemporaries celebrate the return of minimalism in soothing nudes and creams, Scandinavian designer Henrik Vibskov's collections are packed with color. The Central Saint Martins grad is known for his vibrant knitwear and avant-garde styling, which he presents in full flourish with runway shows — past titles include "The Solar Donkey Experiment" and "The Fantabulous Bicycle Music Factory" — during Paris Fashion Week. Though his clothes and accessories are stocked at retailers like Opening Ceremony, Seven New York, No. 6, and Aloha Rag, on Friday he unveils his first U.S. flagship at 456 Broome Street (nr. Mercer; 212-219-3950), joining existing stand-alone stores in Oslo and Copenhagen. This spring, he'll be returning to his alma mater to lead a lecture series, prepping for his spring 2012 show, and drumming with his electronic band, Trentemøller, which is playing at Coachella this Sunday. We caught up with the Copenhagen-based designer to discuss his penchant for bold colors, jaunty hats, and Marlow & Sons.
What prompted you to open a store in New York?
I'd been playing music here quite a lot, and we thought it would be nice to do our own store here. We've already been selling to seven or eight stores in New York, but now we can create our own world. It's this creative universe. We're building a wooden installation with details taken from my flat.
How hands-on are you with the store design?
I'm pretty involved. I wish I could just sit and smoke cigarettes on a beach, but if you want to impress people with something avant-garde or funny, you have to be active. That's also partly why I'm teaching at Saint Martins. I don't want to be just this luxury guy sitting on a balcony viewing what other people are doing.
What other lines will be stocked in your store?
We meet all kinds of people when we do shows in Paris, so we wanted to get some young labels to produce stuff for the store. We're carrying brands like Cosmic Wonder, Stine Goya, uslu airlines, ANNITAN, Kronkron, and Volta.
Where do you like to shop in New York?
I just went to Prince Lumber for building materials — it's a great place, though it has nothing to do with fashion. I really like Chinatown, and I love Marlow & Sons. For fashion, Opening Ceremony, Seven, and No. 6.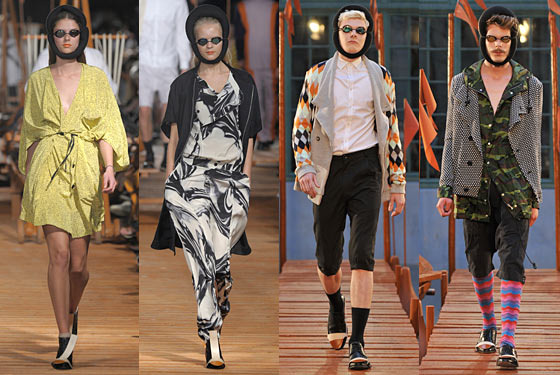 How would you describe your personal style?
Right now I'm wearing an overall jumpsuit, kneesocks, and a hat. I always have a hat on, but it's not like I collect hundreds of them. Lately, I switch between one knitted by my girlfriend and one from Comme des Garçons.
What trends are you appreciating right now?
It's been pretty minimal for a few years, but I think the pendulum is swinging back to colors. There are so many people who are good at minimalist shirts and jackets, but I'm really good at colors and more crazy stuff.
Any trends you're ready to see retired?
The tailored suit jacket that's been around for the past two years feels a bit tired.
What's one item you're saving to buy?
Some dark green wool kneesocks. I wear kneesocks every day.
What should every guy have in his closet?
A hat, some nice socks, and a pair of underwear.
What's something you never leave the house without?
Cigarettes and a hat.