How Do You Think This Used-Car Ad Makes Tom Ford Feel?
His likeness has been used in it, probably without his permission.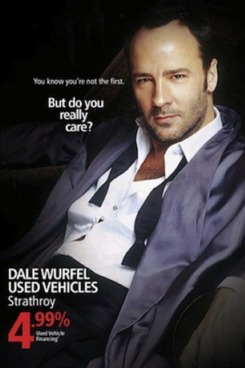 Canadian used-car salesman Dale Wurfel used this image of Tom Ford from one of the designer's fragrance ads in one of his ads. With the tagline, "You may not be the first but do you really care?" the ad has attracted international attention in the Telegraph newspaper, among other outlets. As fashion bloggers everywhere envy the decidedly unsexily named Wurfel's captioning skills, how do you think His Forbulessness is feeling to see his chestiness used in this manner?
Is Tom Ford selling used cars? [Telegraph UK]