How Patrick McMullan Accidentally Tore the Train on Blake Lively's Gown Asunder
Luckily, Lively had safety pins.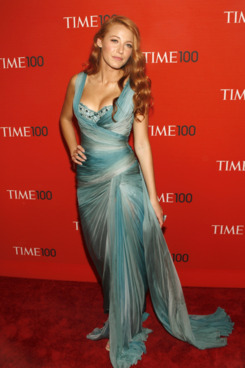 Though the newly redheaded Blake Lively (she dyed it for the movie Hick) arrived at the Time 100 Gala a vision in an aquamarine Zuhair Murad gown, it would take only a moment for her look literally to unravel. Toward the end of cocktail hour, the tardy Lively, one of this year's Time Influentials, was attempting to beeline toward the gala's seated dining area in the Allen Room at Jazz at Lincoln Center when she involuntarily stopped, as if some mysterious force were pulling her back. "Oh? Oh!" she said, turning around, confused. "Oh? Oh!" said many in the crowd around her.
After a fifteen-minute interlude that, witnesses say, included a less-composed Lively bursting into an occupied stall, frantically explaining she had ripped her dress, the industrious actress emerged with the train oddly safety-pinned just above the left side of her left butt cheek. It seemed unnecessary, given that the gown had looked just fine, even ripped, but what do we know? Soon she was back with her fellow Influentials, seated next to her savior Martha Stewart in the front row, and leading off the dance party for Sting's performance of "Desert Rose." "You just have to be crafty!" said Lively, dancing away.