Kate Middleton Is Busy Doing Things That Most Likely Relate to Her Wedding!
Wearing her hair up! Driving! Moving boxes! Eeeee!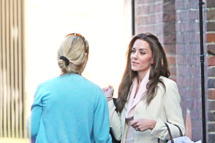 With less than 24 hours before the royal wedding, it'd be totally acceptable to assume Kate Middleton is lying prone in a dark room having special massages to lower her stress levels, or at least drinking lots of herbal tea. But no! Having outright rejected the help of servants, she's out and about and running errands: driving back and forth from her parents' home, perhaps revealing some of her wedding vows on one occasion, and moving boxes at Clarence House. And there's the obligatory rampant speculation that, with her hair styled in an updo, she's been at more practice run-throughs. But can she still wear a tiara with her hair all up like that? Can she even wear her famously thick, flowing, glossy shampoo-commercial-worthy hair up without world outcry?
See these looks, and many more, in the Kate Middleton Look Book.