Kate Middleton Is Now Wearing Another Alexander McQueen Dress for Dinner at Buckingham Palace
She's also wearing an angora cardigan that looks ripe for shedding.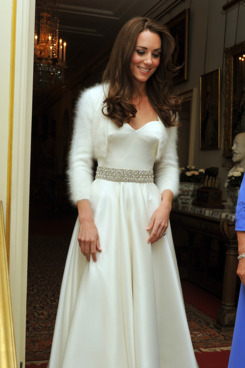 Kate Middleton (now officially Catherine, Duchess of Cambridge) changed into another dress by McQueen's Sarah Burton for the post-wedding evening party at Buckingham Palace. Dress No. 2 is strapless, made of plain satin gazar, and nipped at the waist with a diamante embroidered band. Perhaps chilly, Kate's also wearing a white angora bolero cardigan, which looks poised to shed white fluff all over William's crisp black tux.

Kate wears second Sarah Burton dress for evening party [AFP]