Enjoy Looking at Kim Kardashian in Oddly Droopy Pants
And um, not in an area you'd want to use the words 'odd' or 'droopy' in relation to.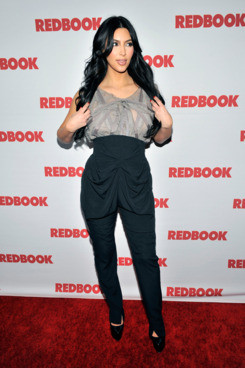 Kim Kardashian attended an event in L.A. yesterday celebrating Redbook magazine's first "family issue," featuring the omnipresent Kardashian clan. She wore a sleeveless, semi-sheer gray lace blouse with some high-waisted pants that featured folds and draping down through the crotch.
But why? Is there any way to make these pants flattering, perhaps with a slightly higher hemline? Or are they a lost cause?