See More Beautiful Images of the Pieces in the Met's Alexander McQueen Exhibit
Also, the label's new creative director, Sarah Burton, talks about working with the late, great designer.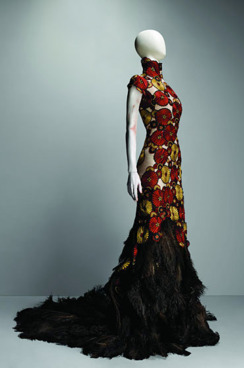 On May 2 the annual Met Ball kicks off the Metropolitan Museum's Costume Institute's new exhibit, Savage Beauty, a retrospective of Alexander McQueen's work. The hefty catalogue of the exhibit was recently distributed, and it features new glorious photos of some of the late designer's most glorious pieces. The book also includes Tim Blanks's interview with McQueen's successor, Sarah Burton — one of the most extensive that's been conducted to date.
Burton tells Blanks that when McQueen (she calls him by his first name, Lee) got the call from LVMH to go to Givenchy, he merely thought they were calling him to do a handbag collaboration with Louis Vuitton, which was the hot thing in fashion at the time. Burton went with him to Givenchy. "We had one pattern-cutting table, which used to belong to Body Map and Flyte Ostell, with chairs that didn't reach the table. When Lee got the Givenchy job, we got chairs that reached the table," she tells Blanks. "And he was really excited because it meant there was money coming in, and he could do things he'd never done before."
Earlier: A First Look at the Costume Institute's 'Alexander McQueen: Savage Beauty' Exhibit
BEGIN SLIDESHOW