Meet the New Girl: Codie Young Ate Pancakes Backstage at Chanel
Stumble Upon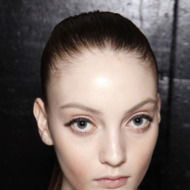 At the age of 16, Codie Young was discovered while shopping with friends at a local mall in Australia. Initially, Young decided to hold off on modeling until she finished her primary education. That was until the doe-eyed model was summoned by Australian Vogue's Kirstie Clements to shoot the magazine's October 2010 cover. Now 18, the Amedeo Modigliani enthusiast (seriously, you should hear her go on about him) opened for Marni's fall 2011 collection and modeled for Calvin Klein, Marc Jacobs, Lanvin, and Chanel. We met with Young last week to talk about her love for Beacon's Closet, pawpaw ointment, and her irrational fear of injections.
Tell me about your childhood and how you got discovered.
For most of my childhood I lived in a really small town, but then I moved to the Sunshine Coast when I was 8. I had a really great childhood, actually. I have one older sister and one younger, so I'm the middle child; the best child! My discovery story is pretty typical. A year and a half ago I got scouted by Summer Fisher while I was shopping with my friends.
Before your major breakthrough this February, you modeled successfully in Australia. How did that prepare you for New York, Milan, and Paris?
I actually didn't do that much work in Australia because I wanted to finish high school first. I got an Australian Vogue exclusive for six months, so that worked out well. I also went to Tokyo for six weeks, so that was what really prepared me for New York Fashion Week, as I worked really hard while I was there.
What do your friends and family think of your success?
I think a lot of people expected me to change, but I'm still the same person. And of course there are always those people who are extra nice to you afterwards, but it's whatever, I pay no mind to them. They didn't like me yesterday; little do they know that I'm still the person I was then.
Judging by what you're wearing right now, you seem pretty stylish. Where do you get your style inspirations?
I don't think I'm particularly inspired by anything or anyone really. I don't care about things like who made it or where it's from; if I like something, I buy it. I'm not a brand whore at all.
You have a blog that chronicles your modeling travels. What made you start it?
I did it mainly because it's a good way for people to keep in touch with me. Especially if they're not in the industry and it's hard for them to relate, they can just read my blog instead of me having to tell every single person the same story over and over again. I also thought it would be a good thing for myself, so I could help remember every detail of this part of my life.
Tell us something random about yourself.
I'm a very sarcastic person … just ask my bookers.
Let's play favorites:
Artist: I'm obsessed with Modigliani.
Musician: Paramore. They're really cool and have a great sound.
Film: Inception was great because the film was so well thought out. And I love Tim Burton and his quirky style. Alice in Wonderland is probably my favorite movie.
Book: The Historian by Elizabeth Kostova.
If you could meet anyone, dead or alive, who would you meet?
That's tough, but probably Leonardo da Vinci because I'm a painter. I respect his work and his intelligence. A day in his life would be, oh my God, incredible.
What inspires your paintings?
I've been painting my whole life; it's my thing. I plan to go to the university for it when I get the chance. There's this really cool art school in San Francisco that I would love to attend. I like to draw landscapes, and I love to draw faces. I'm a face person. I pay attention to the way people look.
If not modeling, what would you like to do?
Honestly, I would paint all day. I would buy a massive studio and just paint forever.
What would you like to accomplish in 2011?
Find a good apartment in New York. I really like Williamsburg and all the vintage shops off Bedford like Beacon's Closet and Buffalo Exchange.
What scares you?
Where to begin? I'm most afraid of injections and needles. I'm also not very good with pain, so as much as I'd like to have tattoos and piercings, I don't think I'll be able to go through with it.
Guilty pleasure?
I have a bit of a sweet tooth. I love junk food in general; it's the key to being thin. [Laughs]
After your breakthrough runway season, what has been your most memorable backstage moment?
Chanel was really cool. They had the most amazing food ever ,and it was almost the end of Fashion Week. It was an early morning show so they had all this amazing breakfast food, like pancakes. Yes, there were pancakes at Chanel! And they had all these different juices, parfaits, and things. Since it was the end of Fashion Week, I was sick of eating sandwiches so I just remember walking backstage and thinking, "Thank God!"
Did you make a lot of friends?
Well, I actually live with Emily Baker, Maud Welzen, and Jessica Clarke. They're all really cool, and we get along really well. Kate King is so lovely, and of course I love all my fellow Aussie girls.
What's one thing you have in Australia that you can't find in New York, Milan, or Paris?
Pawpaw ointment! You can only get it in Australia so I always stock up before I leave home.
Do you work hard to have that model-runway body?
No, I'm naturally skinny so I'm really lucky. I eat whatever I want. I'm a bit of a lazy person so I don't like to exercise very much. Whenever I have to work out I go for a run, but it always takes me forever to put on my joggers. I think yoga is really cool, but once again, I'm kind of lazy. [Laughs.]
Place you'd love to travel?
I always wanted to go to New York, but now that I'm here I love it. Everything's 24 hours! When I was in Milan and Paris, nothing was open after shows so I would get home and wouldn't be able to eat anything delicious. [But the] shopping's great here, and the people are interesting. Every type of people live in New York, like Australia.
How do you maintain your hair and skin?
Shockingly, I wash my hair. So that's my big secret. [Laughs.] But after the shows ended, I did a couple treatments because it was so dead from being beaten over and over again. Also, I advise people to find a good shampoo and conditioner.
Where do you see yourself in five years?
Gosh, in five years I'll be so old! But really, hopefully I would have my own apartment with my own painting studio. Or I'd love to study visual arts of some sort.
Explore other rising stars (plus all the big names) in our extensive Model Manual, featuring runway pics, glamorous editorials, model bios, career timelines, and more.