Meet the New Girl: Codie Young Ate Pancakes Backstage at Chanel
Eighteen-year-old Codie Young is Australia's newest modeling export.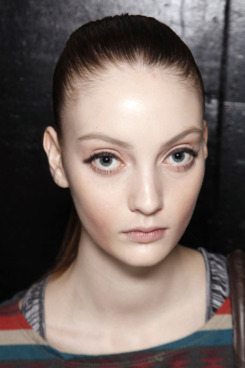 At the age of 16, Codie Young was discovered while shopping with friends at a local mall in Australia. Initially, Young decided to hold off on modeling until she finished her primary education. That was until the doe-eyed model was summoned by Australian Vogue's Kirstie Clements to shoot the magazine's October 2010 cover. Now 18, the Amedeo Modigliani enthusiast (seriously, you should hear her go on about him) opened for Marni's fall 2011 collection and modeled for Calvin Klein, Marc Jacobs, Lanvin, and Chanel. We met with Young last week to talk about her love for Beacon's Closet, pawpaw ointment, and her irrational fear of injections.
Explore other rising stars (plus all the big names) in our extensive Model Manual, featuring runway pics, glamorous editorials, model bios, career timelines, and more.