Meet the New Girl: Hanaa Ben Abdesslem Would Love to Change the Way the Middle East Views Modeling
Stumble Upon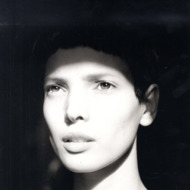 Tunisian model Hanaa Ben Abdesslem made her runway debut in Vivienne Westwood's spring 2011 show in Paris. But it was her Givenchy couture exclusive three months later — where she chopped her hair into a Jean Seberg-esque bob — that really got the 20-year-old noticed. After signing with IMG Models worldwide thereafter, Ben Abdesslem was shot for Carine Roitfeld's final March 2011 French Vogue issue, cast in a beauty spread that highlighted her startling resemblance to eighties top model Talisa Soto. Having successfully walked her first New York Fashion Week this past February, modeling for Ralph Lauren, Anna Sui, and Oscar de la Renta, we anticipate a long and bright career in the industry, which she hopes will incorporate more of the Arab world.
Where are you now?
I am in Paris, and I just had dinner with a dear friend named Farida Khelfa, an Arabic woman who pursued an international modeling career some years ago and remains a great force in our industry today.
How were you discovered?
At the age of 5, I would tiptoe through my house, pretending I was walking on a catwalk. In high school, though, I was watching a Lebanese TV show, Mission Fashion, which is the equivalent of Project Runway in the U.S., and I sent in my application to participate. Then I won second prize. A year later, I met an Arab woman, Sophie Galal, who shared my views and ideas about changing and exposing the true challenges of the modeling profession for the Arab world. She soon became my manager and presented me to IMG.

Tell us a little about your childhood.
In Tunisia, families live together, either in the same house or in the same neighborhood. I grew up with my grandparent, uncles, aunts, and cousins. I remember all the big family festivities as my happiest memories. With my older brother Walid, who studied drama and acting, we would exchange creative ideas and practice expressing ourselves artistically at home. It was my brother who encouraged me to pursue my dream. He took me along to his theater castings and I would observe the way he expressed himself, and in turn I imagined myself on a photo shoot doing the same thing.
Let's say you had the day off tomorrow, what would you do?
I would like to do something outdoors, for sure. When I stay indoors, I usually spend my time updating myself with all the latest news happening around the world.
If you could change one thing about the industry, what would it be?
I would like to see diversity within the industry continue to grow.
How would you describe your style?
I have a simple, casual style, which represents my personality.
Share with us a few of your beauty secrets.
I like to keep it natural. The best advice I would have is to cleanse your face and hydrate morning and night. It is important to get enough sleep every night and drink lots of water.
I don't smoke or drink any alcoholic beverages. That's my beauty secret.
If we looked in your purse, what would we find?
My mobile phone, pen, wallet, a magazine, apartment keys, and a small pocket pouch holding my hand cream and lip balm.
What's been playing on your iPod lately?
All the latest hits. I like to be up on all the new releases, so I download them as soon as they come out!
What's your diet like? And how do you maintain your physique — do you work out?
I don't have a specific diet, but I try to eat healthy and stay well-balanced. When I have time, I work out at the gym, but otherwise I do a lot of walking.
Favorite style icon?
Coco Chanel.
Tell us something about modeling most people don't know.
I can speak for the people in my country, Tunisia, and there is a lot they don't know about this industry. Primarily, they have this misconception of what modeling is about. Modeling can be a career choice, too. I plan to change this misconception within my culture.
Explore other rising stars (plus all the big names) in our extensive Model Manual, featuring runway pics, glamorous editorials, model bios, career timelines, and more.