Meet the New Girl: Zuzanna Bijoch Is Addicted to Trashy TV Shows
Stumble Upon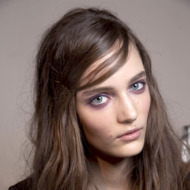 After years of being the awkward, lanky tall girl at school, Zuzanna Bijoch entered herself in D'vision Model Management's modeling contest at the tender age of 13. She ended up winning the grand prize, which resulted in a trip to Tokyo and a contract with Next Model Management. Now 17, Bijoch is a face of Prada's spring campaign, and she recently completed a successful sophomore catwalk season, having closed for Balenciaga and walked for everyone from Alexander McQueen to Yves Saint Laurent. She can also be found in the pages of Dazed & Confused and Love magazine, and we hear that Steven Meisel shot her for Louis Vuitton's upcoming fall campaign, alongside Chinese model Fei Fei Sun and Dutch rising star Daphne Groeneveld.
Tell us a little about your childhood.
I felt like the odd one out because of my height. I was always the tallest girl in my school, but later I understood that this was actually a big asset for me. I also never had any dolls when I was younger. Instead, I had a whole zoo of fluffy animal toys; my favorite animal was the big white hippo. I think I still have it somewhere in my house.

How did you get discovered?
My older sister Julia and I entered a modeling contest in Poland, which was organized by D'vision Model Management. I won first prize. Then [I] met all the people from my current agency, Next Models. It was a great experience for me, as I met a lot of people with whom I'm still in touch with today.
You did exceptionally well this fall 2011 Fashion Week. Can you share one of your favorite highlights from the season?
At the Louis Vuitton show, we presented the looks via elevators that went from backstage to the runway. When the elevator doors opened, we were suddenly in the middle of a runway. The light and music hit us at the same moment. I was also excited to close the Balenciaga fall collection, especially because I've always loved the brand.

If you absolutely had to pick: runway or print?
I would have to say print because it allows us to be much more expressive. It's such an amazing opportunity to take part of such a creative process.
What was the last thing you bought?
Castanets from my last trip to Spain.
If you could meet anyone, dead or alive, who would you like to meet?
Antoni Gaudi! I admire his work and think it would fascinating to talk with him about all the crazy buildings he designed. Such a visionary!
What scares you?
The feeling that time is going so fast and there are still so many things I want to do.
Describe your style in three words.
Practical, individualistic, chic.
Favorite nineties supermodel?
Naomi Campbell. Not only is she an icon, but I also had a chance to work with her during the Vuitton show this season. And she looked fantastic.
Now, let's play favorites, what's your favorite:
Book? Promise at Dawn by Romain Gary
Film? Little Miss Sunshine
Musician? Ray Charles
Artist? Marc Chagall
Where do you see yourself in five years? Ten years?
In five years, I'll still be in the fashion industry. In ten years, I'll be working on Wall Street.
Tell us a secret.
I love watching TV, including cheesy ones. It's like an addiction; when you start you can't stop.
Explore other rising stars (plus all the big names) in our extensive Model Manual, featuring runway pics, glamorous editorials, model bios, career timelines, and more.