Michelle Obama May Have Switched Stylists Again
So says one of her favorite designers, Peter Soronen.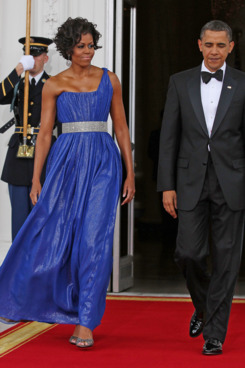 One of Michelle Obama's favorite designers, Peter Soronen, said last night that Mrs. Obama seems to have already replaced her latest stylist, Meredith Koop, who took over the job when Mrs. Obama and Ikram Goldman quietly stopped working together this past winter. "We heard that she's gone already. So I'm not even sure who it is right now," he said after a panel discussion at the New York Public Library, "Why Style Matters," moderated by Kate Betts. Soronen's colleague Ellen Carey, who manages all of his sales through her New York showroom, Seedhouse, said she'd also "heard this rumor" about Koop's departure. "You never know. Ikram might be back," she said, quickly adding that she hadn't heard anything specific and noting that Goldman just gave birth to twins and is preparing to open her expanded new flagship store in Chicago. So did Goldman end her relationship with Michelle Obama because she wanted to focus on other projects? "I don't think their relationship will ever end," said Carey. "For Ikram, she gives 100 or 150 percent whenever she does anything, so I think she had to cut back to manage whatever next chapter she's taken in her life. But I don't think we've seen the end of Ikram."
Soronen has never met Mrs. Obama, but when she wants to wear one of his garments, he gets a request from her office (that is, if it's for a formal event that requires something fancier than her standard daily off-the-rack fare; otherwise, she just orders her clothes like anyone else). "I get an idea of color, I get an idea of a size, and I make sure that it can be altered. I have a more secure feeling knowing that it can be either let out or taken in," he said. How specific are Mrs. Obama's directions? "I had an idea of what she's feeling on wearing. If it's going to be an easy skirt, and not a fitted skirt. I'll send a swatch sometimes. Other times I was just given a direction, like 'I want a true red,' or 'It's got to be the most beautiful blue.' But they trusted me in a lot of things, which was great," he said. And then, of course, he can't tell a soul. "He won't even tell me!" chimed in Carey. Soronen nodded. "I don't even tell Ellen until like, the day of, and I work with Ellen very closely. I'm very tight-lipped about it. I don't tell anyone."