Now on eBay: 'Courtney Love Couture'
You can buy items Courtney has worn herself.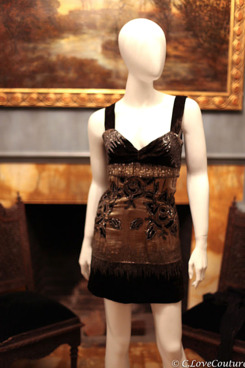 The people behind the blog whatcourtneyworetoday.com — Courtney Love's wonderful personal style blog — have put some of her clothing up for auction on eBay in a store called Courtney Love Couture, thereby carving another notch in the horribly abused tree that chronicles all the misappropriations of the word couture (it's quite the devastated tree). For not all the clothing is couture, but maybe the couture means it has the custom effect of whatever happens to a garment or pair of shoes or handbag after Courtney wears it. A deodorant smudge here, a toe imprint there, etc. The dress pictured here, for instance, is by Claire La Fay and was photographed on Love at some event. You have a little more than four days' time to bid on the dress, which is now priced at $649. You can even wear it with these Givenchy sandal boot things ($249). Or you could probably emulate the look at perennially eight-years-behind mall eveningwear store Caché, where items just might have a similar musk to Love's.
Courtney Love Couture [eBay]