Oscar de la Renta: 'This is the Century of the Woman.'
And more highlights from his talk last night on everything from dressing first ladies to girl scouts.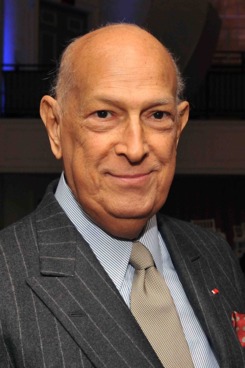 "I think that you have to be elegant naked to be elegant clothed," Oscar de la Renta told the crowd at the French Institute Alliance Francaise last night, speaking as part of the Fashion Talks series. The designer, who lately may be as famous for his remarks about first lady Michelle Obama as his clothes, talked about working at Balenciaga in Madrid and later Lanvin in Paris — where he ended up after turning down a job at Christian Dior — in the fifties and sixties. Working under these masters, he truly learned his craft at a pivotal time in fashion when haute couture spawned ready-to-wear. Now he's one of the most highly regarded designers based in New York. We compiled a few highlights from his talk on everything from dressing first ladies to designing boy and girl scouts' uniforms to why being a designer now is harder than ever.
Lots of people can make good sketches, but not all can turn them into beautiful clothing.
"Don't get fooled by good sketches. You can make a very beautiful drawing but then you know you need to learn how to make that go into reality, how to make that dress. In fact, I would say if you take a wonderful drawing and that you envision in a certain way and you give it to ten people working for you to create a dress, every one of them will interpret them in a different manner and come up with a different dress."
Designing for the modern customer is more challenging than ever.
"There's no more exciting time in creating clothes than now. When I started my career, we were creating clothes for a very small segment of the population. Today, there's no question that the most important consumer is the professional woman. There has never been in the history of time a woman more in control of her destiny than today. That makes our work much more difficult and challenging but at the same time more exciting because you're working for a woman who knows [herself] so much better."
He doesn't dwell on his CFDA awards.
"That was ten years ago! Now the next ten years! I have been very lucky to have the memory of a mosquito. It happens to me so very often that I'm at some event ,and a lady will come to me and say, 'I didn't realize you were here last night and I was wearing' — and she'll start describing something of mine she wore the night before, and I wouldn't have the slightest. Because you know I make hundreds and hundreds ... if I see the dress I recognize it, but it's important to look forward. Sometimes you have to look back to look forward but its important to keep your eyes open. Today, especially at my age being challenged by very young people, it's important to see what everybody else is doing and learn from that. Its all about passion."