David Gandy, Henry Holland, and Agyness Deyn All Ran the London Marathon This Weekend
They all finished with decent times, too.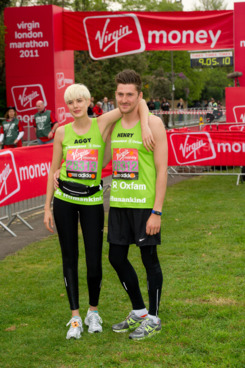 While we were getting some sleep between drinking on Saturday night and drinking more on Sunday afternoon, 36,000 people ran the London Marathon, including Henry Holland, David Gandy, Agyness Deyn, and Tuuli Shipster. The Oxglam Squad, as they named themselves, did the run to raise money for the Oxfam charity. Of the four, Holland finished first, tweeting, "3hrs 28mins and 59seconds!!! NEVER AGAIN." Deyn, who finished in four hours and 45 minutes, had a more Zen response: "Running the marathon is such a powerful experience which digs deep into the soul of your being," she tweeted. Gandy, who admitted to having slacked on training due to a skiing accident and sore knees, finished just ahead of her in four hours and 35 minutes. So, what did you do on Sunday morning?
The Finish Line [Vogue UK]