R.J. Cutler Is Still Chummy With the Vogue Crowd
He gave Grace Coddington an antique tape measure for her birthday.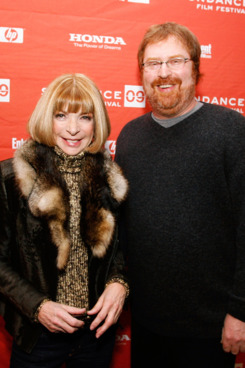 We ran into The September Issue director R.J. Cutler at the Tribeca Film Festival opening night and wondered if he still keeps in touch with Anna Wintour, Grace Coddington, and the rest of the Vogue gang. "Sure, of course," he said. "We were all together last week for Grace's 70th birthday party. It was a very beautiful thing, and it was both a reunion for us with all the people who we spent a year with and miss and were so happy to see, but also the filmmaking team hadn't been together for a little while, and Anna and Grace were gracious enough to invite us. So it was great; it was a very special night."
For her birthday, Cutler presented Coddington with an antique silver locket — with a twist. "It doesn't open; instead, you pull out a very thin measuring tape, and etched on it is Gucci. It was a Gucci measuring tape, probably used by their seamstresses." He bought the trinket back when they were shooting the documentary and was waiting for the right moment to give it to the Vogue creative director.
However, Cutler was not so forthcoming when we inquired whether Wintour partook of birthday cake at the party. "I'm not, uh …" he stammered, and then simply said, "There's some, um, discretion that even a filmmaker must exercise." Aha, that sounds to us like carbs did pass Anna's lips! "No. It means — perhaps you didn't hear — that there is some discretion that even a filmmaker must exercise. I'm sure you agree."